The business we're featuring this month is SoHo63 in Downtown Chandler, Arizona. With 12,000 square feet of space and four amazing options to choose from, SoHo63 isn't just a "place" we show up to in order to film weddings. It's a "magical venue" that is as charming and quaint as it is elegant and regal. And based on the footage we shoot time and time again, the bride, groom and wedding party don't seem to be complaining much either!
Here are 10 reasons we recommend choosing SoHo63 as the ultimate location to both film your wedding and enjoy your reception.
For smaller gatherings, this intimate location is ideal. It features historic brick that's exposed, blended with up-to-date flourishes. SoHo63 describes this space as a "modern library" which makes sense – lots of people are "booking" it due to its picture worthy backgrounds and lovely furniture groupings. Okay, so that pun isn't amazing, but the venue truly is. What makes this space ideal is the technology it boosts: wireless microphones, two flat screen televisions, a projector and great lighting. And while there's not a ton of room for a major dance party, it's a lovely option for toasts and speeches. (Plus it's an ideal spot for a cocktails with its big city loft vibe.
If you've always wanted to have a wedding on a roof, New York City style, this is about as close as you're gonna get without triggering a fear of heights. Tribeca Terrace was designed after a rooftop promenade and boasts an open-air courtyard. 
With Covid still dominating the landscape, this is a perfect choice for guests to have the feel of a traditional wedding reception without having to be stuck inside. It can hold up to 175 people in non-Covid conditions and at night is lit up with bistro lights. Want things a bit more swank? They have a dazzling fireplace as well that adds more elegance to the mood of the event. It's not uncommon for guests to come back after the wedding is over and enjoy the space as an after party location. And while planning a wedding here is perfect, it's also a perfect spot for a bridal luncheon, shower or mixer before the wedding.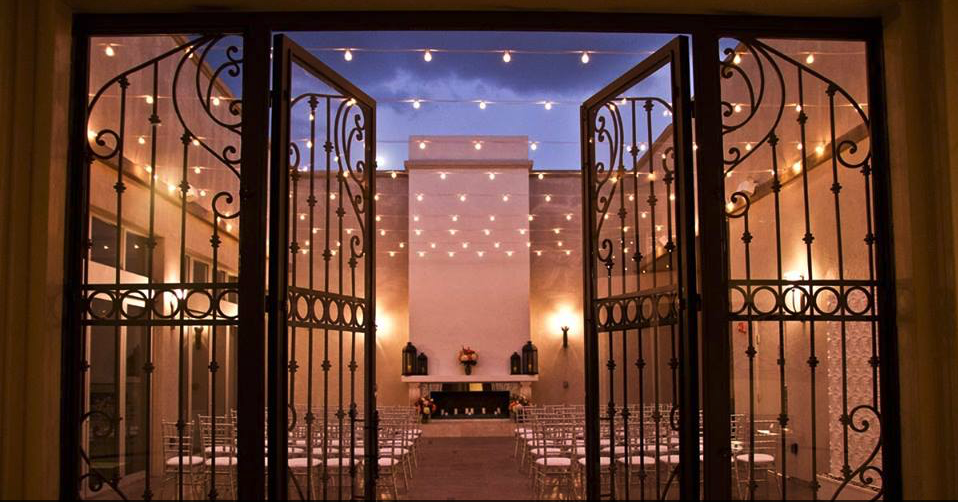 Did someone say "Ballroom?" Yes, we did. And while Cinderella has her castle, the Gramercy Ballroom is right up there when it comes to elegance and class. 
It can hold up to 225 guests and, like the other rooms, it is up to date with current technology. What makes this such a great choice for filming is the wonderful modern lighting, as well as the accent lighting? And as far as dramatic entrances, you'll be pressed to find something as enchanting as their accordion style glass doors that open up from the delightful Tribeca Terrace. If you are looking for a more traditional room for your event, this is definitely the choice for you. (And you won't complain about the footage we get of you dancing on the reflective floors.)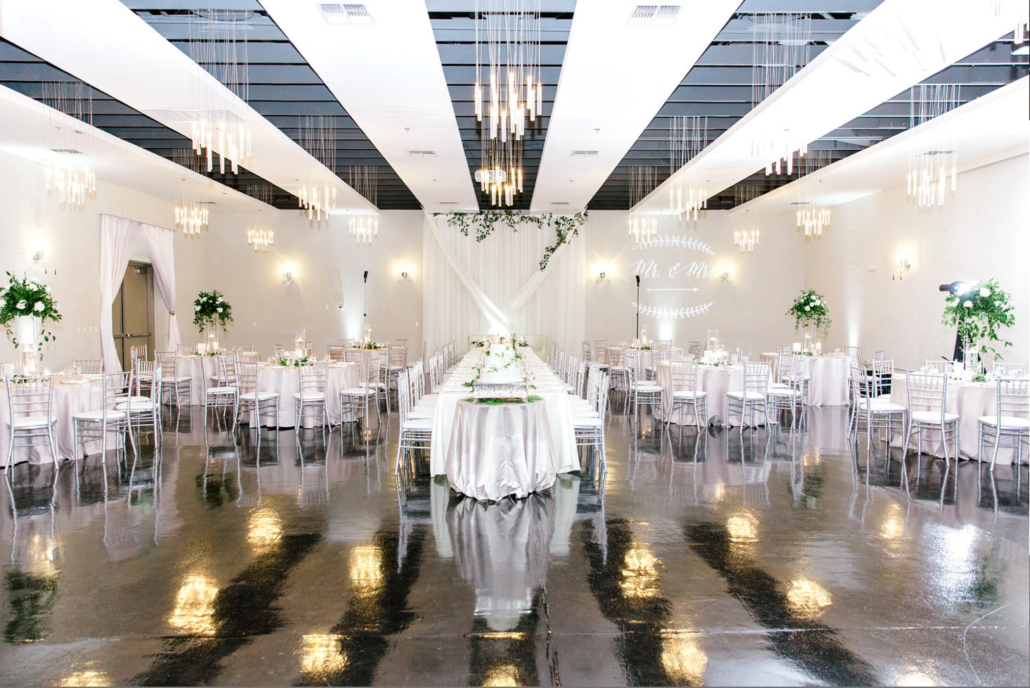 While the Gramercy is one of the more formal venues at SoHo63, The Plaza is a combo of formal sprinkled with romance. It's an indoor space featuring candles on the wall, modern chandeliers, crystals that hang from the ceiling and beautiful soft lighting. Due to the heat of Arizona, guests will love sitting indoors for your wedding and taking in the ambience of relaxation this calm environment elicits.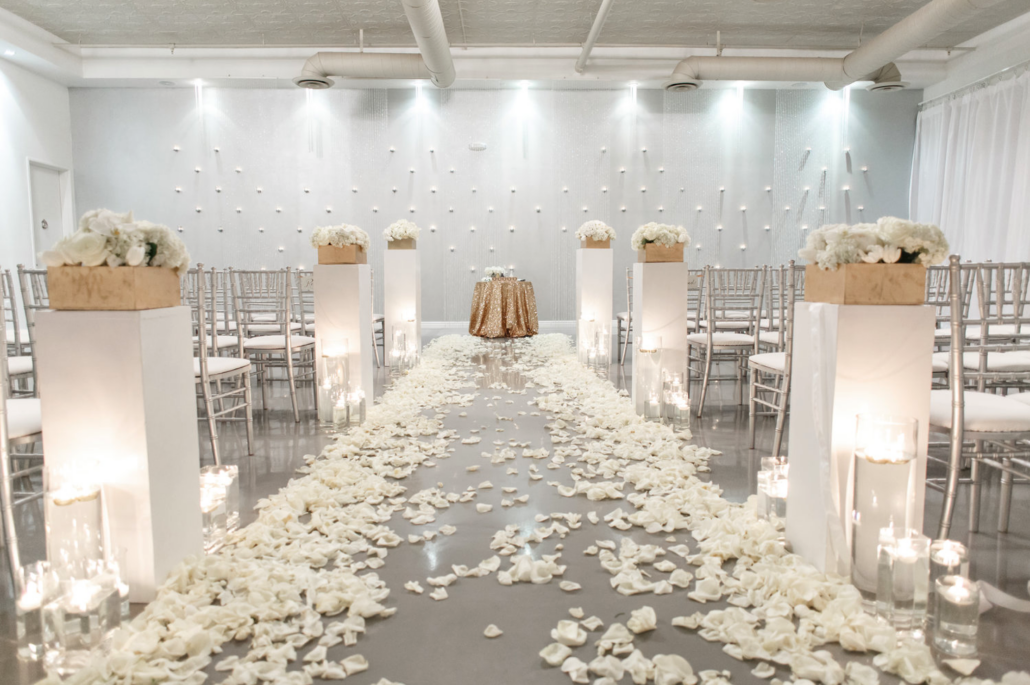 THE STAFF
We work with a lot of people, and the staff of this particular venue are A+. They go above and beyond to serve both you and your guests. From your very first tour to closing out your party at the end of the evening, they are kind, classy and the perfect combo of blending into the background as to not take over your event, but stepping up when needed. Because they have used our filming services so many times, we are truly a well-oiled machine. Translation: You won't be spending your reception asking us to get shots of your parents in front of the fireplace. We got ya covered!
THE TECHNOLOGY
Okay, so bringing up technology isn't exactly romantic when it comes to wedding planning, but you wouldn't say that if there was a chance you couldn't show the film of your courtship because the projector wasn't working. SoHo63 has trained staff that not only know every inch of their facility, but they know how to operate all the bells and whistles needed to make your wedding day come off flawlessly. We can't tell you how many times in the past we've filmed weddings where the microphone wasn't working just at the best man was going up for his speech. You won't find that at SoHo63.
COVID 19 READY
Getting married during a pandemic is less than ideal. But Soho63 has you covered. They not only practice social distancing and have maintained their facility with top rate cleaning, they can also incorporate any ideas you might have that accommodate all the latest CDC guidelines. They also work vigorously at maintaining the regulations within the Event Safety Alliance Reopening Guide. Guests can expect hand sanitizer prominently, but elegantly, displayed. 
THE ALCOHOL
While Covid 19 isn't amazing, there's plenty of wine, beer and spirits to, well, keep your spirits up. Something New Media has taken so much lovely footage of people enjoying a cocktail hour in one of their beautiful rooms. You can be next! You can work with them to choose between the packages that best fit your lifestyle and budget. 
LIVE STREAMING
Nothing beats being in person at an event, but a wonderful online stream is next. SoHo63 will live stream your wedding for guests that can't be there in person, whether due to in infirmity or the current crisis. All your guests would have to do is RSVP 'Virtual Participation' and SoHo63 will shoot them over a link.
THE PRICE IS RIGHT
Depending on your budget, the lovely staff at SoHo63 will work with you to design a wedding that won't break you monetarily. Just like Something New Media who wants you to have a memory that you will remember for the rest of your life on film, SoHo63 staff will go out of their way to hear your concerns and help you plan the wedding of your dreams. 
GETTING MARRIED IS SCARY
Yes, you heard that right. Not only are you making a commitment to a person for the rest of your life, you are making a really big one to the people showing up for your wedding. Add in Covid 19 and it's enough to not believe in happily ever after at all!
But at Something New Media, we're kind of suckers for happy endings. Why shouldn't your big day be the best it can be? We will do everything we can to ensure that your wedding is filmed with utmost professionalism. This same work ethic is also what is taking place at SoHo63, so if you're looking for both a wonderful venue for your event, as well as a fabulous backdrop for your wedding video itself, look no further. We can't wait to work with you.
Something New Video – Let Us Film Your Wedding!
We're a nationally recognized, professionally owned, media company having filmed over 2,000 weddings since opening in 2012. 
As an experienced media team, we understand the importance of your wedding day and have a passion for capturing emotion + showcasing real wedding stories.
Something New Media is a collection of award-winning filmmakers + editors dedicated to bringing you the most breathtaking wedding films in the New York, Chicago, and Phoenix areas.
We've had the honor of being featured on Carats & Cake, Wedding Chicks, Phoenix Bride & Groom, Chicago Style Weddings, Arizona's Finest Sites & Services, Modern Luxury, The Celebration Society and many others.
Find us at our website here!